Cobalt is the key element used in batteries of mobile phones, laptops, and electric vehicles and hence the demand for cobalt has been increasing year after year. To ensure responsible sourcing the Responsible Minerals Initiative released the version 1.1 of the Cobalt Reporting Template (CRT) on Dec. 21, 2018.
What is the CRT?
The CRT is a free, standardized reporting template that facilitates the exchange of information through the supply chain regarding mineral country of origin and smelters and refiners being utilized. In doing so, it supports companies' exercise of due diligence in accordance with the OECD Due Diligence Guidance for Responsible Supply Chains of Minerals from Conflict-Affected and High-Risk Areas. The CRT also facilitates the identification of smelters and refiners and was designed for downstream companies to gather and disclose information about their supply chains.
What is the difference between CRT and CMRT?
The CRT is similar to the existing Conflict Mineral Reporting Template (CMRT), but is limited to cobalt only. Currently there are no regulatory compliance requirements in place for cobalt at this time but we already have several customers that are on the starting blocks to collect this information from their supply chain.
Cobalt Reporting on the SustainHub – available from September 2019
In September 2019 we're going to launch a new release of our iPoint Conflict Mineral apps to include the Cobalt reporting into the existing reporting workflow. Customers with an Enterprise license will get the possibility to add the Cobalt reporting to their account and all other licenses will be enabled to response to requests which are including cobalt related questions. The CRT will be supported when answering requests aside from the user guided wizard within the application. Our latest addition to enable responsible sourcing is future proof as we are supporting the upcoming release of CRT 2.0 expected for October/November 2019.
Conflict Minerals – Cobalt Integration in Enterprise license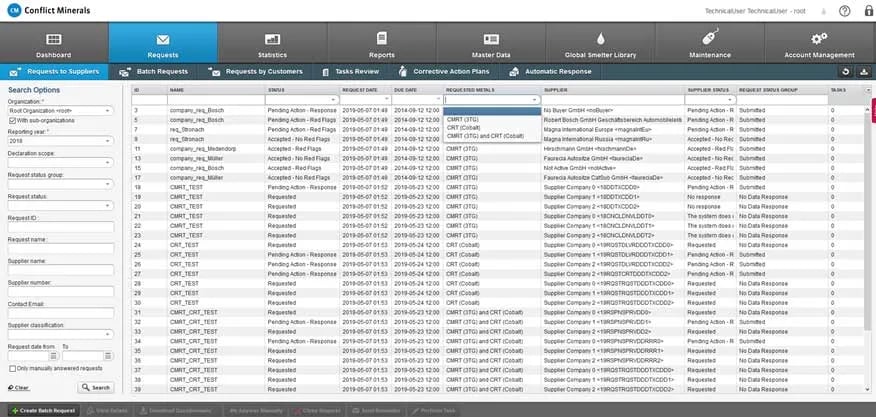 Within the request overview the requested metals are listed per request
Conflict Minerals – Cobalt Integration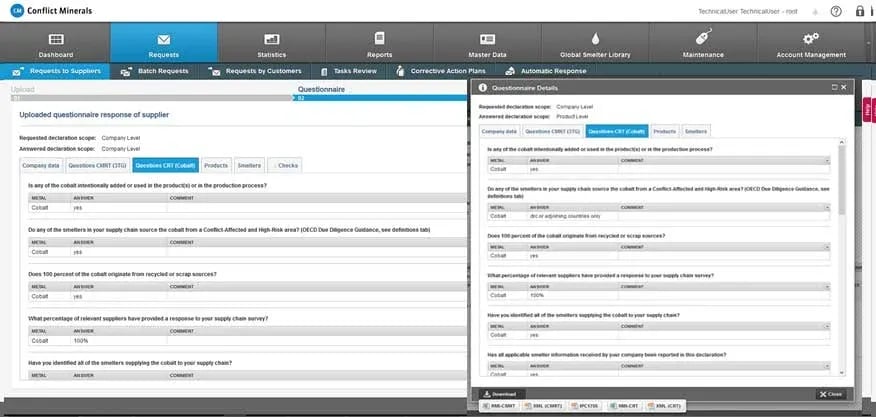 The provided answer can get previewed before it will get finally submitted. The CRT details will be shown within the Questionnaire Details screen additionally to the CMRT details.
Request an offer for the new Cobalt Reporting functionality
You are interested in extending you Conflict Minerals Enterprise licence with the new Cobalt reporting?