Digitalization and Industry 4.0 loom large on the horizon of manufacturing. For many companies, they represent the vision of a more sustainable future – and, according to Jan Hedemann from ifu Hamburg, Member of iPoint Group, we're already well on our way there.
While Industry 4.0 is the objective, digital transformation is the path that leads there. Digitization allows manufacturers to collect and analyze data in new ways, resulting in better systems understanding and based on this in more sustainable business decisions. That's why digitization and Industry 4.0 are invariably tied together, Jan Hedemann explains during the event Ressourceneffizienz Treff.
Promoting sustainable production for more than 25 years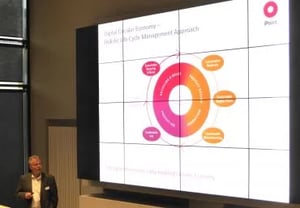 Hedemann had the closing remarks at the Ressourceneffizienz-Treff 2018 in Hamburg, an event organized by ifu Hamburg that brought together over 80 actors from industry, consulting, and research to promote hands-on ideas and solutions for better resource efficiency.
As co-founder of ifu Hamburg, Jan Hedemann is a long-time champion of realizing more sustainable production. For more than 25 years, his vision has driven the development of sustainability software enabling more environmentally friendly products and the quest for greater resource efficiency in many companies throughout Germany and beyond. He was instrumental in further developing ifu's flagship software, Umberto (for material flow analysis) and e!Sankey (for Sankey diagrams) as well as introducing businesses to the benefits of Material Flow Cost Accounting (MFCA) for improved material efficiency. Applying ifu's software solutions the ifu-team helps companies improving resource efficiency with consulting services.
End of 2017, ifu Hamburg became member of the iPoint Group. With the merger, ifu expands the iPoint service portfolio with its core competence – consulting companies on improving their resource efficiency.
Digitization is at the core of Industry 4.0: greater efficiency, all the time
The concept of Industry 4.0 is part of a digital circular economy requiring a zero-waste strategy, minimization of resource use, and, ultimately, a completely new approach to product design and supply chains. It's based on a company's ability to have access to live data at all times, and digitalization is vital in managing the plethora of data streams needed to achieve this vision.
"Efficient production is a core strategic task for every business", Jan Hedemann believes. Until now, the status quo on resource efficiency improvement has been 'project based' where a business analyzes energy and material use in a certain segment of production and then implements one-off efficiency improvements. Frequently, that search for potential improvements is triggered by regulations and guidelines such as ISO norms or CO2 reduction goals in an environment of underlying strategic business goals that include improving product quality, saving energy, and, of course, saving costs.
Hedemann urges companies to move beyond this project-oriented view and instead approach resource efficiency as a continuous, ongoing process. "With an ever greater pool of data at our fingertips, we can utilize this information for more efficient and environmentally friendly production throughout a product's entire life cycle", Hedemann says.
The role of Live LCA in a digital circular economy
This is where the vision of "Live LCA" comes in. Its goal is to provide quantifiable sustainability information and cost transparency at every step of production for each product, resulting in improved economic and environmental performance.
Live LCA will usher in a whole new perspective on sustainable production aiming at systematically identifying and realizing efficiency potentials. It combines the existing methods of Life Cycle Assessment and Material Flow Cost Accounting (MFCA) with live data derived from monitoring all aspects of production, ranging from energy use to resource consumption and waste generation. With Live LCA, a company will not only be able to analyze the energy costs and resource efficiency of its products and processes, but also the environmental impacts. This new perspective can be integrated step-by-step into the entire production process, merging supply chain information with live production data to encompass a product's entire life cycle.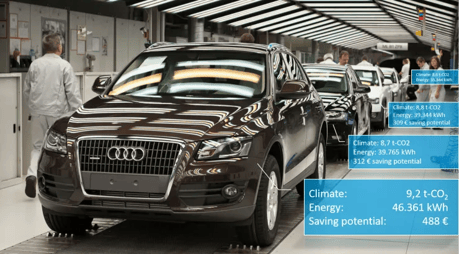 "Our vision is to basically connect models with continuous data flow," Hedemann explains. Instead of a one-time analysis of just one production aspect, a business will be able to use the software and update data on a daily basis, "In the end, this allows us to increase the knowledge and systems understanding within businesses and reduce future consulting needs." The Live LCA vision also includes integrating seamlessly trusted supply chain information.
Blockchains as a basis for transparency
One of the most promising tools to turn this vision into reality is the blockchain technology. Blockchains enable industry to digitize and streamline the supply chains to improve efficiency, reduce costs, and facilitate resource management as well as product compliance. Ultimately, suppliers and producers seek to create reliability and trust within the supply chain and blockchains have the technological ability to do just that. The technology can embed detailed information – for example about a raw material's origin – directly within the supply chain which then becomes traceable and immutable all the way to the end product.
The big picture: climate change and resource efficiency
So where does all this lead? Ultimately, we need to reduce our energy use in order to stay below the critical 1.5 °C of global warming projected for the first half of this century. It's a great challenge that requires radical rethinking in every branch of industry. "It will be very difficult to stay below the 1.5 °C mark without political backing", said Hedemann while speculating on the need for a better regulatory framework to support this process.
On the business level, the process is all about integrating resource efficiency into the company's operative and strategic management. It's about connecting information that's already available – the vast amount of data on material, energy, costs, and environmental impacts, all of which often is distributed across many departments. Digitization is the tool that enables all these separate models and data streams to come together and to form a meaningful big picture. In the end, digitization and Live LCA have to become part of the continual improvement process (CIP) by incorporating it deeply into a company's resource efficiency strategy.
As Jan Hedemann likes to say: there's still a lot to do.
Presentations and videos are available at https://www.ifu.com/events/ressourceneffizienz-treff/ (sorry, in German only).