Material Flow Cost Accounting, or MFCA, is most widely known as an instrument used by manufacturing companies to improve material efficiency. The approach analyses the flows and inventories of materials in processes and production lines, in both physical and monetary units.
At the recent Ressourceneffizienz-Treff in Hamburg, which brought together 80 experts from industry, politics and research, Julian Nuss from Junker-Filter GmbH explained how implementing MFCA is not only reducing energy costs and avoiding material losses for their company, but is also adding an important benefit when used as a tool for strategic business decisions.
Junker-Filter: innovation and know-how at the heart of business
Junker-Filter is a second generation, owner-operated, SME located in Sinsheim, Baden-Württemberg, Germany. The company manufactures customized industrial filters for solid-liquid separation and dust filtration serving, used, for example, in the cement, food, and automotive industries. Despite its relatively small size, Junker has always had a strong emphasis on innovative research and development.
As head of purchasing and procurement, Julian Nuss is responsible for sustainable materials acquisition and oversees process optimization to reduce waste and save resources. He introduced carbon footprints as an important parameter for material acquisition and coordinates the continual improvement process (CIP) within the company, a role which also puts him in charge of implementing the company's MFCA strategy.
The three pillars of Material Flow Cost Accounting
MFCA is a useful tool for analyzing the costs associated with material consumption and waste, especially for a manufacturing enterprise with a high cost-of-materials rate (56%). Junker-Filter was first introduced to the system through a business incentive offered to companies located in the state of Baden-Württemberg. After some initial challenges, the company moved the project forward with the help of a student thesis following which Junker-Filter eventually set up its own MFCA team. Soon the first results poured in, highlighting details of material and monetary losses within the production system and identifying potential savings. It wasn't long before this new tool caught the attention of the company's decision makers.
Julian Nuss believes that Material Flow Cost Accounting provides three strong pillars, which can be applied to virtually any company:
cost savings
strengthening the continual improvement process (CIP)
managing the carbon balance
Taking the overall carbon footprint into account has become an important part of Junker's business philosophy. By tracking and analyzing CO2 impacts, the company is capable of redesigning products with energy efficiency in mind and thus gain a competitive advantage. According to Nuss, the number of customers demanding information about their products' carbon footprints is growing steadily.
Measurable gains using MFCA
In addition to the three main pillars referred to above, Nuss also sees additional benefits from using MFCA: the tool can help to increase productivity, improve communication (both internal and external), and lead to greater process transparency by collecting detailed data. MFCA can also be useful as a quantification tool when it comes to rewarding employees' ideas for process improvements.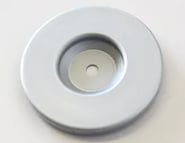 Nuss used a practical example from Junker's filter manufacturing process to prove his point. After analyzing the entire process step-by-step using MFCA, the company discovered a potential for savings and implemented changes. By outsourcing the labor-intensive step of degreasing the filter end discs and drilling individual holes, the company saved a total of 8,000 euros/a in both materials and time (labor costs). Not to mention increasing overall production capacity and employee motivation.
The table and graph below show how Junker-Filter realized savings of 15% in materials and 5% in labor costs, while at the same gaining a 15% boost in productivity as a result of implementing Material Flow Cost Accounting. "Mind you, these are modest savings, but Junker-Filter is a small company," Nuss pointed out. "You can easily imagine how much one could save on a larger scale."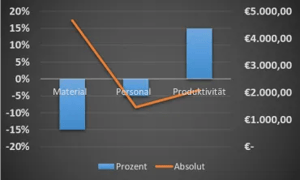 Important tool for strategic business decisions
Using this holistic approach to identify loss drivers, especially in material-intensive manufacturing, MFCA reveals its extraordinary strategic potential. The results of the Material Flow Cost Accounting process turned out to be both an important factor in making investment decisions in new technology or machinery as well as an instrument for increasing productivity.
As a product's carbon footprint becomes ever more important for marketing, it is essential to have an efficient tool for data collection at one's fingertips. Larger companies often make their purchase decisions based on the carbon footprints along their entire production chain, so its advantageous for suppliers to provide that kind of detailed information. By communicating a product's CO2 balance, businesses gain a competitive edge at a time when an increasing number of customers are clamoring for more sustainable products.
With its finely detailed focus, Material Flow Cost Accounting enables companies to scrutinize and improve their internal logistics. "I basically see MFCA as a provocation to analyze the entire manufacturing processes", Nuss explained. And that, he is sure, will always reveal more potential for savings and greater efficiency.
Finding the right software
Junker-Filter used bw!MFCA, a free software tool offered by the state of Baden-Württemberg to businesses located within that state. Businesses outside of Baden-Württemberg can purchase Umberto Efficiency+, a successful tool which is widely used internationally, for their MFCA needs.
Presentations and videos are available at https://www.ifu.com/events/ressourceneffizienz-treff/ (sorry, in German only).