In November 2018, iPoint launched a new compliance survey app for the SustainHub platform as a perfect addition to the iPoint Compliance and iPoint Conflict Minerals. The new iPoint Supply Chain Survey) enables you to collect all kinds of information and enhance your supply chain communication through a custom survey. You can create fully flexible questionnaires based on customizable templates and send out additional campaigns to your suppliers to request information aside from substance- or material-based regulations.
The best way to get information is to just ask – Create custom compliance surveys
With the new Supply Chain Survey, you can immediately start communicating with your supply chain – whether you want to gather information on social issues like human trafficking or anti-slavery, get statements on the usage of cobalt, or find out if your suppliers are prepared for BREXIT.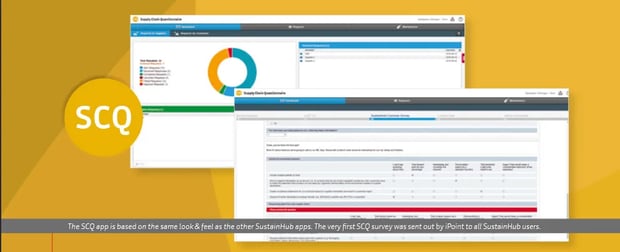 Your benefits – Increase your response rate tremendously
The new iPoint Supply Chain Survey provides several clear and convincing benefits: The setup of questionnaires for your supply chain is easy, quick, and user-friendly, because it allows you to use ready-made questions in multiple languages. The app saves you a lot of time, since the distribution is very efficient. The powerful tool sends out a high volume of questionnaires with a great reach in a short time.
As iPoint Supply Chain Survey sends out the requests via SustainHub to your suppliers, the app attracts more responses than other tools, which means the response rate is extremely high. Using the SCS app facilitates the response process for your suppliers, as they are used to receive and respond to requests via SustainHub. With the SCS app you can get exactly the data you need, in real time, keep the overview of all your responses and centrally manage them on SustainHub. Additionally, the responses are easy to export or visualize in graphical charts.
Features – Collect real data, not only answers
With the SCS app you can collect real data, not only answers: e.g. the app enables you to check your suppliers' answers against the history of their previous responses. As usual in the SustainHub, your suppliers can use the free Basic license to answer your questions. There they will be guided through the response process and will have the option to reject requests and give a reason for the rejection, answer several questionnaires and attach supporting or requested documents.
Functionalities – Results in real-time
The iPoint Supply Chain Survey supports multiple languages and allows you to request additional documents in specific languages. Additionally, the app enables you to send out campaigns to suppliers which consist not only of one but of multiple questionnaires. You can easily evaluate the responses for your requests with the app, since you have the possibility of a review and acceptance handling of responses. The Supply Chain Survey app provides you with the results in real-time via your dashboard to monitor and optimize the performance of your campaigns.
Outlook – Evaluate your suppliers
As an additional functionality, a rating of your supplier's answers is planned to help you run a risk evaluation of each of your suppliers.