Ritter Sport, the well-known German producer of chocolate bars in the distinctive, square package, offers a wide range of confections, each wrapped in a different color. But who knew that behind the more than 100-year old business, a small revolution is brewing among the huge vats of chocolate?
Tradition meets efficiency: Ritter Sport chocolate
The recent Ressourceneffizienz-Treff in Hamburg, organized by ifu Hamburg, brought together more than 80 participants from industry, consulting, and research to discuss energy efficiency and present hands-on ideas and solutions on a wide range of topics.
Among the presenters was Benjamin Flaig from Alfred Ritter GmbH & Co. KG. He's worked for Ritter Sport since 2004 and heads the company's energy management since 2018. Flaig is responsible for implementing and maintaining the Energy Management System according to ISO 50001 as well as improving the company's energy efficiency throughout the entire production process.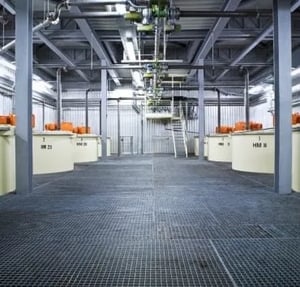 The scale is daunting: The company, which has been in business since 1912, sells its chocolate in more than 100 countries and employs nearly 1500 people worldwide, with close to half a billion euros in annual sales. The company's ambitious goal: reaching CO2 neutrality in the production of chocolate bars.
One of the milestones on the path to sustainable production was to establish a cocoa plantation in Nicaragua in 2012 where cultivation follows the principles of integrated agriculture. Practices there include avoiding artificial fertilizers and to retain or increase carbon in the soil. In addition, composting biomass further reduces carbon emissions. The project was submitted to receive the Gold Standard Certificate, which would enable Ritter Sport to use climate-neutral production processes from 2022.
In 2016, Ritter Sport started an in-depth energy monitoring program to look at energy demand at every single step of the manufacturing process. As a result of this effort, the company was awarded the German Sustainability Prize in 2018.
Smart energy management: turning employees into allies
But what to do when all the low-hanging fruit on the energy efficiency tree have been picked? "I believe the only way to further increase energy efficiency is to involve every single employee and get them on board with energy saving", Flaig stated. He launched a broad information campaign focused on internal communication and it turned out to be a key factor for successful energy management.
Each employee underwent customized energy management training to increase awareness of energy use in their specific position – from purchasing decisions, to material choices, even to how to drive a delivery van more efficiently. Flaig introduced "Energy Tuesdays" and started a staff newsletter that promoted energy efficiency tips. The idea was to motivate employees in becoming an active part of the company's strong climate protection philosophy.
"It really changed their approach to thinking about energy efficiency" Flaig discovered. An employee contest soliciting ideas for better energy management was another tool that resulted in many improvements. After all, even though Flaig keeps an eye on the big picture, no-one knows the details of the individual manufacturing processes better than the responsible employees. Case in point
A defect in the process leads to greater energy efficiency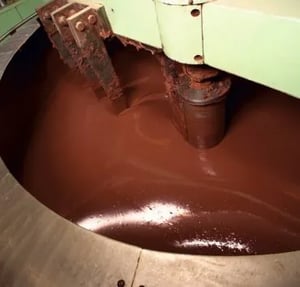 In 2016, a mixer in one of the huge vats of chocolate failed. The manufacturing process requires the chocolate to be stored in its melted form before it is pressed into shape and packaged. Consistent stirring guaranteed that the chocolate's viscosity was maintained. But did it really need to be stirred as often and as long?
In total, 140 vats of chocolate were being stirred for 10-20 min/h, depending on the type of chocolate. With a demand of up to 25kw per hour, energy input for the entire stirring process added up quickly. A team of production specialists was called in to analyze the situation from all angles. Meanwhile, quality control closely monitored the chocolate's viscosity to ensure high quality standards.
The result was impressive: by reducing and standardizing stirring times to two minutes per hour across all vats, the company was able to reduce energy use from 1,100 MWh/a to 200 MWh/a. That, in turn, lowered annual energy costs from about 150,000 euros/a to about 30,000 euros/a. Overall, this process optimization resulted in CO2 savings of 560 tons/a.
In the end, the company's philosophy to question anything and everything – especially if something has been done that way for a long time – has paid off. Flaig points out that it's often the younger generation who ask the pertinent questions: Why are we doing it this way? Is there a better alternative?
Future questions
This kind of thinking has earned Ritter Sport additional accolades: the company was just presented with a certificate from the State of Baden-Württemberg, making them one of 100 companies recognized for high marks in energy efficiency.
Flaig plans to continue his relentless quest to optimize Ritter Sport's energy management. His next goal is to minimize leaks in production line air pressure systems – an ongoing issue for which he hopes to find a more permanent solution that includes continuous monitoring. And then it's on to taking a closer look at the company's climate control needs. "Chocolate making has high cooling demands; I know there's a big potential here for optimization and better energy efficiency."
Energy efficiency: nothing but "smart laziness"
Summing up his experience in Hamburg, Flaig said: "The Resourceneffizienz-Treff was a great platform to exchange ideas with like-minded people. I learned a lot about how other industries tackle energy efficiency issues and gained new ideas and methods. Each of the participants is very competent in their field – but only by exchanging your knowledge with others are you able to improve and find out if you're even on the right path. As I like to say, tongue-in-cheek: "Energy efficiency is smart laziness!"
Presentations and videos are available at https://www.ifu.com/events/ressourceneffizienz-treff/ (sorry, in German only).