The Sustainability and Compliance Trends Survey 2019 is one of the largest global surveys on Compliance and Sustainability in various industries. The results provide intriguing insights into the way companies deal with upcoming challenges e.g. digitalization and provides detailed industry insights on the cost of compliance and sustainability.
754 experts from 52 different countries participated in the survey. We surveyed managers of different departments, sustainability and compliance specialists, as well as the C-level. After estimating the importance and evolvement of spending on sustainability and compliance, the participants were asked to assess how helpful digitalization can be in saving costs.
Is digitalization helpful to save costs related to Compliance and Sustainability?
The average rating shows that digitalization is generally perceived as cost saving. While the trend of compliance and sustainability spending is towards rising or at least stable cost, the question of digitalization as cost saver seems somewhat more controversial.
In fact, more than half of all participants believe that digitalization not only saves costs, but also generates high savings. In contrast, there are several outliers. 16% provided negative ratings, i.e. they expect no or at least only minor cost savings from digitalization.

… from a regional perspective
Most participants come from North America (39%) or Europe (37%). There are also many participants from Asia (9%), India (4%) and South America (4%).
The highest average ratings come from India and South America. According to this, Indian and South American companies are the ones most likely to believe that digitalization will result in high cost savings. In contrast, we can record the lowest average rating in North America. These companies do not seem to be entirely convinced of the cost-saving role of digitalization.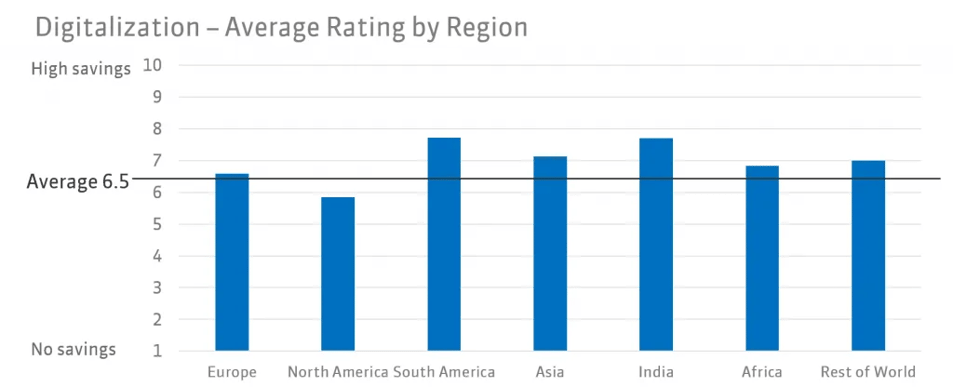 … from an industrial perspective
70% of the participants work in companies in the manufacturing, electronics or automotive industries. While the electronics companies are roughly at the level of the overall average, the automotive companies, together with the companies from the medical device, metals & mining and retail sectors rated above average. In these industries, digitalization is mainly perceived as a high cost saver. Furthermore, it is not surprising that the absolute highest ratings come from software companies. However, the packaging industry does not seem to be entirely confident that digitalization will help them to save cost.
Conclusion
All in all, we can conclude that sustainability and compliance have played a very important role in 2019 for companies in various industries worldwide. However, compliance is perceived as more important than sustainability. Industries such as packaging, metals & mining, chemicals and retail assessed compliance and sustainability spending remarkably high. It is also interesting to note that regions such as South America, India and Asia also gave high overall ratings – they planned an above-average increase in spending and also rated digitalization as highly cost saving.
> Compliance or sustainability – What's more important for businesses?
> The cost of compliance and sustainability – How companies' spending evolve in 2019
Share your opinions and experiences in this year's survey
We want to keep our fingers on the pulse of time. That is why we are continuing our research in 2020 in order to identify an emerging trend over time.
The Focus in 2020: Technology
In addition to the general importance and estimated costs of sustainability and compliance, this time we focus on the role of technology in coping with climate change and on companies' compliance and sustainability goals.
Would you be willing to take 2 minutes and share your thoughts?
> Answer five questions and be part of the trend 2020
---
All results summarized in one paper
Get a summarizing overview of the entire trend study.
---