The Sustainability and Compliance Trends Survey 2019 is one of the largest global surveys on Compliance and Sustainability in various industries. The results provide intriguing insights into the way companies deal with upcoming challenges e.g. digitalization and provides detailed industry insights on the cost of compliance and sustainability.
754 experts from 52 different countries took part in the survey. We surveyed managers of different departments, sustainability and compliance specialists as well as the C-level. After assessing the importance of compliance and sustainability, the participants gave an outlook on the evolvement of their company's compliance and sustainability spending.
Companies' outlook on compliance & sustainability spendings in 2019

All in all, the ratings point to a general increase in corporate spending on sustainability and compliance issues, or at least to stable costs.
Half of all experts stated that spending on these topics would remain stable. The rest assessed an increase in compliance and sustainability spending, with an exemption of only 5%, that estimated a decrease.
… from a regional perspective
Most participants come from North America (39%) or Europe (37%). But we also have many participants coming from Asia (9%), India (4%) and South America (4%).
India and South America have the largest increase in compliance and sustainability spending in 2019. Europe is in line with the global average. Africa estimates that spending on these issues will be stable in 2019.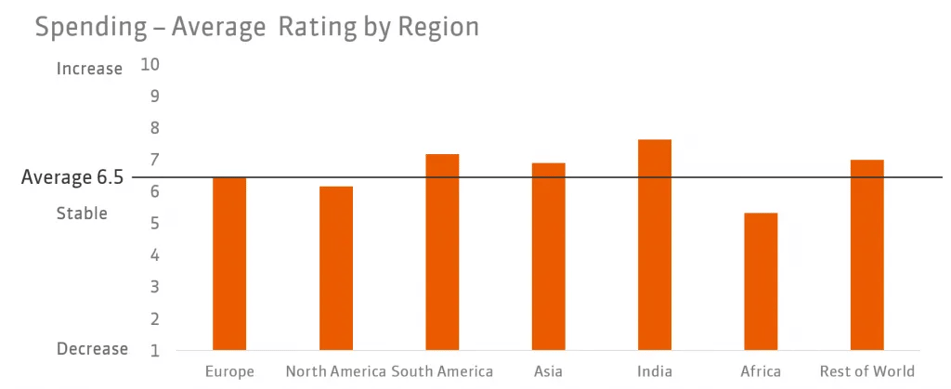 … from an industrial perspective
70% of the participants work in companies in the manufacturing, electronics or automotive industry. The companies in these sectors are within the overall average and tend to increase their spending.
There are other remarkable industries that indeed have lower participation rates but provide surprisingly high ratings for their companies' spending on sustainability and compliance issues: representatives of packaging, chemicals, software, metals and mining industries, as well as the Retailers estimated a sharp increase in their spending.
However, all of these results need to be interpreted with caution, as growth is always linked to its starting point and therefore an increase in corporate spending in 2019 is related to the base set in 2018.
All in all, we can see that spending on compliance and sustainability issues for companies in various industries worldwide has increased in 2019. From this data we can deduce that compliance and sustainability becomes more cost-intensive.
But how can companies reduce these costs? Could digitalization be cost-effective in terms of compliance and sustainability?
> Can Digitalization help to save costs related to sustainability and compliance?
---
All results summarized in one paper
Get a summarizing overview of the entire trend study.
---
Share your opinions and experiences in this year's survey
Would you be willing to take 2 minutes and share your thoughts?
> Answer five questions and be part of the trend 2020
---