After our successful survey 2018 with more than 450 participants, we decided to carry on with our research to observe the sustainability and compliance trends in 2019.
The Sustainability and Compliance Trends Survey 2019 is one of the largest global surveys on Compliance and Sustainability in various industries. The results provide intriguing insights into the way companies deal with upcoming challenges e.g. digitalization and provides detailed industry insights on the cost of compliance and sustainability.
754 experts participated in the Sustainability & Compliance Trends Survey 2019 and provided us the latest industry insights. Beside of the general importance and estimated cost of sustainability and compliance issues for companies worldwide, we also focus on their perspective on the benefits of digitalization.
The voluntary survey participants were asked to:
rate the level of importance of compliance and sustainability for their company,
give some outlook about the evolvement of their company's compliance and sustainability spending in 2019
assess the role of digitalization: Do they expect digitalization to save costs for sustainability and compliance issues
and name their greatest personal compliance or sustainability challenge in 2019.
We have compiled the key results from last year's survey in handy infographics, so you can see the results as clearly as possible.
Global coverage and insights from various industries
The study provides a global overview of various industries, as 754 experts from 52 different countries and 30 industries participated in this survey.
Almost 40% of all participants come from North America and another 37% from Europe. But we also have many participants from Asia, India and South America. In addition, 70% of the participants work in companies in the manufacturing, electronics or automotive industries. A glance at their job titles confirms us that we surveyed managers from various departments (Quality Assurance, Purchasing, Financial, Operational, Sales, etc.), specialist in the field of sustainability and compliance as well as C-level executives.
What is more important: Compliance or Sustainability?
Overall, compliance and sustainability seem to be very important for companies worldwide. Only for very few participants sustainability and compliance are of minor importance. But compliance is considered more important than sustainability: almost 70% of all participants gave compliance the highest possible rating – in terms of sustainability this only applies to 55%.

These results appear to correspond to the Global CEO Survey of PwC. The survey of 1581 top managers revealed that over-regulation and climate change are among the possible threats that managers fear most. However, over-regulation concerns them more than environmental damage and climate change.
… from a regional perspective
A comparison of the ratings by region shows that compliance is a global issue that continued to gain importance in 2019. India and South America have the highest ratings for compliance, followed by North America and Asia. Lowest average ratings come from Africa.
It's interesting that Asia weighted sustainability higher than compliance. Sustainability was rated most importantly for Asian companies followed by Indian and South American ones. European and African companies gave the lowest ratings on average.
Having a closer look at Europe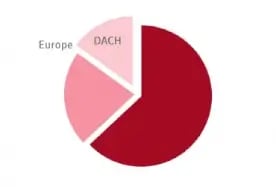 Since Europe has given moderate weight to the importance of sustainability compared to other regions, it would be interesting to take a closer look at the European regions.
Expressed in numbers, 274 participants come from Europe corresponding to a share of 37%. Most of them come from the DACH region (Germany, Austria and Switzerland), which also has a large share of the total number of participants (15%). Furthermore, we distinguish between BENELUX (Belgium, Netherlands, Luxembourg), Northern, Southern and Eastern Europe.
Surprisingly, the DACH region depresses the overall European rating for the sustainability importance, as it is by far the region with the lowest rating of all. In contrast, Eastern Europe is among the regions that gave sustainability a particularly high rating.

… from an industrial perspective
A closer look at the ratings by industries shows that in the manufacturing, automotive and electronics industries, compliance is also ranked higher than sustainability.
The medical device industry assessed the importance of compliance as outstandingly high and sustainability as rather low compared to other industries. The ratings by the packaging industry are remarkable, as all participating companies not only gave the highest possible rating for the importance of compliance, but also gave sustainability an extremely high priority.
We can state that, apart from a few small deviations, sustainability and compliance play a very important role for companies worldwide and across industries. But what exactly keeps these companies busy? What compliance or sustainability challenges are these employees facing?
Challenges and hot topics in 2019
Hundreds of responses resulted in 8 answers, which attracted our attention due to their frequency. Many companies struggle with keeping up with different needs and ever-changing regulations. So one of the biggest challenges is to acquire the knowledge about regulations and then apply it with the aim of being compliant. Many participants complain about the data collection from their suppliers and that it is hard to get any responses and information from them. On the other hand, it is difficult for the suppliers themselves to report on compliance and to respond to all requests they receive.
Furthermore, there are many participants trying to reduce cost and effort as well as save time. Some hot topics are Conflict Minerals and Cobalt Reporting. Risk reduction, as well as the reduction of waste, energy, carbon and water are goals but also challenges for many companies. Besides, "reuse" and recycling are often mentioned.
In summary, companies struggle with data collection, compliance reporting and sustainable production.
But how do they plan to deal with these challenges? And how has this affected companies' spending on compliance and sustainability in 2019?
> The cost of compliance & sustainability – How companies' spending evolve in 2019
---
All results summarized in one paper
Get a summarizing overview of the entire trend study.
---
Share your opinions and experiences in this year's survey
Would you be willing to take 2 minutes and share your thoughts?
> Answer five questions and be part of the trend 2020
---