Surprisingly, companies worldwide, especially in Asia, increasingly view sustainability and compliance as important factors in their business activities. With growing consumer sensitivity and increasing regulatory requirements, more and more companies are turning to software solutions to meet these requirements and achieve their sustainability goals.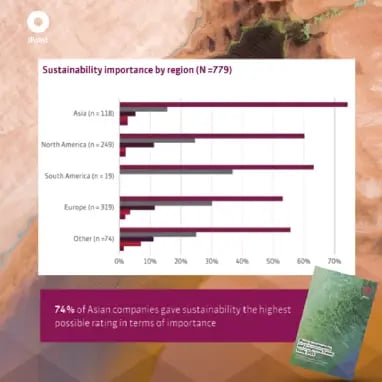 Large companies invest more in sustainability solutions than small companies
In addition, the survey showed that large companies invest more in sustainability solutions than small companies and also set more ambitious goals to reduce their CO2 emissions.

This indicates that businesses around the world are increasingly engaging in sustainability and compliance and investing in technologies and solutions to achieve their sustainability goals. However, we should not overlook the challenges and obstacles facing small businesses, as they too can play an important role in achieving a more sustainable future. Unfortunately, they often lack resources or experts in the field of sustainability and life cycle assessment.
Aim of the survey: More efficient and accurate sustainability assessment and design
For the 5th consecutive year, iPoint conducted a trend survey in collaboration with the Christian Doppler Laboratory at the University of Graz, interviewing a total of 779 experts from various countries around the world on current trends in sustainability and compliance.

The goal of the study is to make sustainability assessment and design methods more efficient and accurate and to optimize them for business decision-making processes. This can be particularly useful when it comes to the use of machine learning to protect confidential information or a method for sustainability assessment and optimization in the early stages of automotive product development.
Monitoring trends in sustainability and compliance since 2018
To achieve this goal, we have been observing global trends in sustainability and compliance annually since 2018, creating the largest study of its kind. The experts we surveyed come from a wide range of industries and companies of all sizes and are distributed around the world. This enables us not only to understand regional differences but also to identify and address global challenges and opportunities.

In our survey, we asked about goals to reduce carbon emissions, expenditures and investments, and measures to achieve those goals. The survey was promoted through various online channels and received responses from experts from different countries worldwide, mainly from Europe, North America, and Asia, with the USA, Germany, and China being the largest participants.
iPoint supports companies of all sizes
The results suggest that businesses worldwide are increasingly engaging in sustainability and compliance and investing in technologies and solutions. However, smaller businesses often lack the necessary support they need. Therefore, iPoint is particularly important in helping businesses of all sizes determine their environmental footprint and act accordingly. iPoint supports companies in making more environmentally responsible decisions by providing comprehensive and user-friendly software that enables the analysis of the entire product lifecycle and evaluates the environmental impact. This software helps businesses worldwide minimize their environmental impacts and make their business practices more sustainable, creating a better future for all.

Download our Trends Survey 2022 for free here: https://tinyurl.com/6k72rsn5