Insights into the INATBA Blockchain for Social Impact Report
The International Association for Trusted Blockchain Applications' (INATBA) Social Impact Working Group (SIWG) recently published a report on blockchain applications for social impact initiatives. Titled the "Blockchain for Social Impact, the report reveals the role of the UN Sustainable Development Goals (SDGs) for blockchain-based social impact and announces the launch of social impact framework development. As co-author of the report, we would like to provide you insight into the findings of the report.
A more sustainable world for future generations requires a massive change in mindset and transparency. This can only be realized with strong global partnerships and cooperation, and full trust in data. The same is true for blockchain and Distributed Ledger Technologies (DLT) – which are clearly collaborative technologies.
This is why, in addition to our involvement in various blockchain & DLT initiatives and projects, iPoint is also a member of INATBA – the leading convener in the global blockchain ecosystem, with 170+ members dedicated to promoting global adoption of blockchain and DLT technologies by bridging the gap between policymakers and industry stakeholders for mutually beneficial conversations.
INATBA Social Impact Working Group
Co-chaired by iPoint CEO and founder Joerg Walden, and Mariana de la Roche from IOTA Foundation, the Social Impact Working Group (SIWG) is one of INATBA's 15 working groups. It focuses on leveraging member expertise to understand and highlight the potential of blockchain/DLT to tackle social and environmental issues such as climate change, poverty, inequality, food waste, corruption, and other areas covered by the UN Sustainable Development Goals (SDGs).
The members of the working group collaborated to map and understand the global ecosystem of projects, start-ups, and initiatives that use blockchain and DLT to deliver positive social and environmental impact, and how these initiatives align and interact with the SDGs.
INATBA Blockchain for Social Impact Report
The recently released INATBA "Blockchain for Social Impact" report was co-authored by Joerg Walden and Maroye Marinkovic (iPoint-systems), Mariana de la Roche Wills and Åsa Dahlborn (IOTA Foundation), Khalid Belghiti (Scrypt Media), Ismael Arribas (KUNFUD), and Dr. Inon Schenker (IMPACT- Jerusalem).
You can access the report here.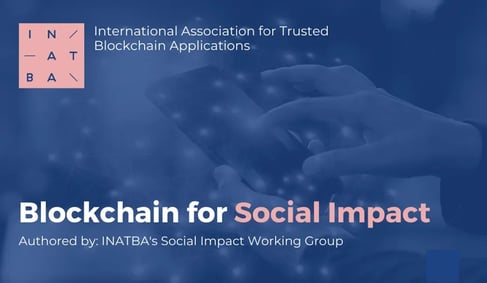 Key Findings of the Report
The report is based on a survey conducted by the SIWG, following extensive desk research to analyze the use cases of blockchain/DLT projects tackling societal issues in order to better understand their objectives, challenges, and potential impact. Representatives from approximately 70 projects participated in the survey, which led to the following key findings:
The SDGs were considered during the development of several projects, and most projects measure their impact on the SDGs. Therefore, there is a high level of engagement with SDGs among blockchain projects.
79% of the respondents mentioned facing challenges regarding standardization and interoperability. Other challenges mentioned include access to funds and the collaboration between institutions and projects.
The survey respondents expressed the need for a global audit/standard for the blockchain community, as well as for more education and research on blockchain technology.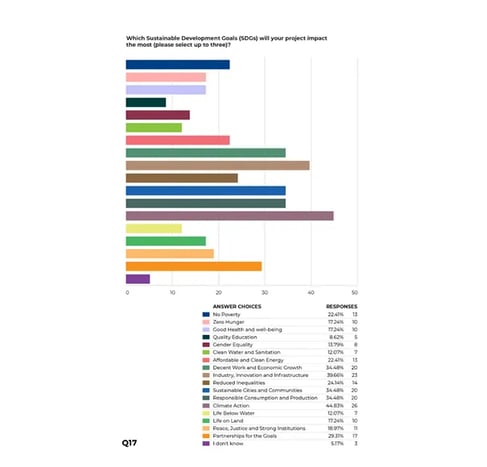 Next Steps on the Journey
The report also highlights the lack of connection between the different SDGs as well as any related KPIs and criteria used to measure impact. INATBA SIWG believes that having a global standard or framework with a defined mutual understanding in the blockchain/DLT community would facilitate better interoperability between different projects, enhancing cooperation to jointly act on pressing societal issues.
As a result, the Social Impact Working Group has suggested a development of a framework with KPIs and criteria that would consider the holistic impact of projects and initiatives across SDGs as the next step on our journey. We are looking forward to working with INATBA members, policy makers, start-ups, and established businesses to develop such a framework, and will make further announcements later in the year.
Especially in today's volatile times, we need the collaboration, full support, and openness of all actors if we are to tackle current global challenges and realize the SDGs with the help of powerful tools and technologies such as DLT. So join the ecosystem ecosystem to work together throughout the supply chain, increase resilience, create shared value, and use cutting-edge technologies to secure a circular, sustainable world for future generations.
If you would like to discuss the report, or provide feedback, please reach out to us directly: circular@ipoint-systems.de.